Our mission is to communicate the work and capabilities of the California State Guard accomplished through public outreach and across multiple media platforms that speak to the people of California.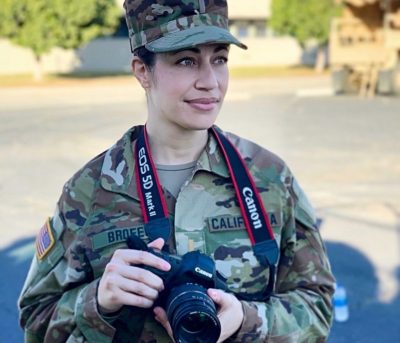 STRATCOM is tasked with developing Public and Internal facing communications that best represent the mission, abilities and service members of the CSG. To do so, STRATCOM has produced a best-of-class external facing website, developed a positive social media presence, and has begun educating CSG Public Affairs personnel while working alongside CNG & CANG counterparts. 
We are currently forming a group of vibrant speakers who will be spokespeople that will attend various functions across the state to narrate the story of the CSG and it's accomplishments. 
No formal education is required to join StratCom. Instead, a good portfolio of previous work in your chosen field (journalism, photojournalism, videography or marketing) is all that's needed. Most of our members have education in fine arts, journalism or film. In addition, many of our team members have broad marketing experience, so you will be working with a quality team of experienced professionals.
StratCom offers guidance and mentorship to help expand your knowledge in your specialty. You will also have the ability to share your knowledge with other CSG units by helping train unit-level storytellers to gather and produce content for their units and the CSG.
StratCom offers a platform for creatives in journalism, photojournalism, and videography to build a portfolio of work distributed statewide and sometimes worldwide through the Defense Visual Information Distribution Service (DVIDS) network. You will work with like-minded creative teams to communicate the CSG mission, capabilities and members through storytelling.
StratCom team members gain meaningful experience and are typically assigned to cover CSG unit activities and events to capture, create, and distribute the story:

1. Capture images, video, and the basics of the story: who, what, when, where, and why.
2. Write the story, select photos and edit videos. 
3. Marketing team members prepare stories for distribution over our social media channels, DVIDS and our website.


All of these skills help to build your professional portfolio of work.
Members of the StratCom Team are typically assigned to cover CSG unit activities to capture the story. For example, it could be a change of command ceremony, field training exercises or interviewing individual CSG members. Additionally, some of our team members may be assigned to cover National Guard activities. 
4th of July Parade
Ops Group ATX
ARE YOU READY TO RESPOND?